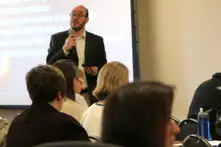 The Attention Deficit Disorder Association is holding its International Adult ADHD Conference especially for adults with ADHD this summer in Orlando, FL.
15th International ADULT AD/HD Conference 
July 24-27 in Orlando, Florida 
I will be presenting:
Productivity 2.0: Smart Tools and Smarter Apps.
Building your productivity tool belt. 
(GTD (tm)  with ADHD)
ADDA is a non-profit organization dedicated to helping adults with ADHD lead better lives.
ADDA is known for its conferences created exclusively for adults with ADHD. They're designed to provide you with the answers, understanding and solutions to help you overcome the challenges of your ADHD. It's a tremendous resource for every adult with ADHD (and the families who love them!):
And since it's ADDA's 25th Anniversary, ADDA is ready to turn hundreds of ADHD adults loose in a luxurious resort for a long weekend to celebrate ADDA's birthday in style!
It's exciting, it's entertaining, it's educational… and it is absolutely life changing. ADDA has been doing this for 25 ye ars now, and they're Celebrating the Progress of the Past and the Promise of the Future
This year's ADDA Conference promises to be amazing with four great keynote speakers.
Canadian comedian Rick Green –  producer and co-creator of two documentaries, ADD and Loving It?! and ADD and Mastering It. 
Sari Solden  author of Journeys Through ADDulthood and Women With Attention Deficit Disorder
Dr. Thomas E. Brown author, speaker and researcher honored by ADDA and inducted into the CHADD Hall of Fame for outstanding contributions to ADHD research and professional education. His most recent book is called  Smart but Stuck Emotions in Teens and Adults with ADHD, and he is well known for his other books including  Updated Understandings of ADHD in Children and Adults: Explaining Inadequate Executive Functions  and Attention Deficit Disorder: The Unfocused Mind in Children and Adult  
Dr. Ned Hallowel (co-author of Driven to Distraction, Delivered from Distraction, Married to Distraction and more),
Plus, there are over 50 breakout sessions on every topic related to adult ADHD you can imagine!
It Gets Even Better…
This year, to encourage everyone to come celebrate ADDA's birthday with an amazing party, ADDA has special pricing for your entire family!
They've even arranged an insane discount with the resort… that's right… not just a hotel, but the Rosen Shingle Creek Resort in Orlando (wait 'til you see this place!), and you can turn it into an unforgettable vacation for the entire family!
Click here now for details