Interview with Kirsten Milliken, Ph.D, ACC, Founder of PlayDHD and ADHD
Recorded at the 2014 ADDA conference in Orlando, FL
Who is Kirsten Milliken?
Dr. Kirsten Milliken is a licensed clinical psychologist, a certified ADHD Coach, and the founder of PlayDHD.  Kirsten lives in Portland, Maine with her two amazing children and two really freaky dogs. Kirsten earned her bachelors degree in 1988 at SUNY Stonybrook and her doctoral degree in 1996 from Alliant University.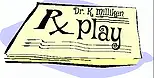 As a licensed clinical psychologist she has worked in a variety of fields including juvenile justice, geriatric mental health, community mental health and nonprofit development.  Her current professional work includes working with military veterans, providing diagnostic evaluations to clients through her private practice, and coaching teens and adults with ADHD. Check out her full bio on her website. 
"Playing with others is better than playing by yourself."
Highlights from this conversation
"Play really is the most effective non-medication treatment for managing the symptoms of ADHD."
Ways To Add Play
Exercise is great, but adding play makes it better.
Anything that that makes it more fun…
Dodgeball anyone?
Adding fun High Energy Music adds play to your exercise.
We recommend…
Podrunner Podcasts for great workout music.
Crossfit Class because it adds high energy music
Ways to add play around work
Standing Desk allows you to move around.
Add music.
Working with another person
Body Double – Start of with a little chat, then agree to work until an agreed upon time.
Taking Breaks by talking to others, going for a walk
Go after those social chemicals Watch out for social media, you don't get the social chemicals from social media
Using colors
Bean bag chairs.
Improv to improve your life
Dressing up as play. Fascinator
Playing with yourself gets boring.
You can reach Kirsten and find out about her audio & video podcast at
or
Watch for her book PlayDHD.
If you see her, don't forget to ask her for a prescription to play.