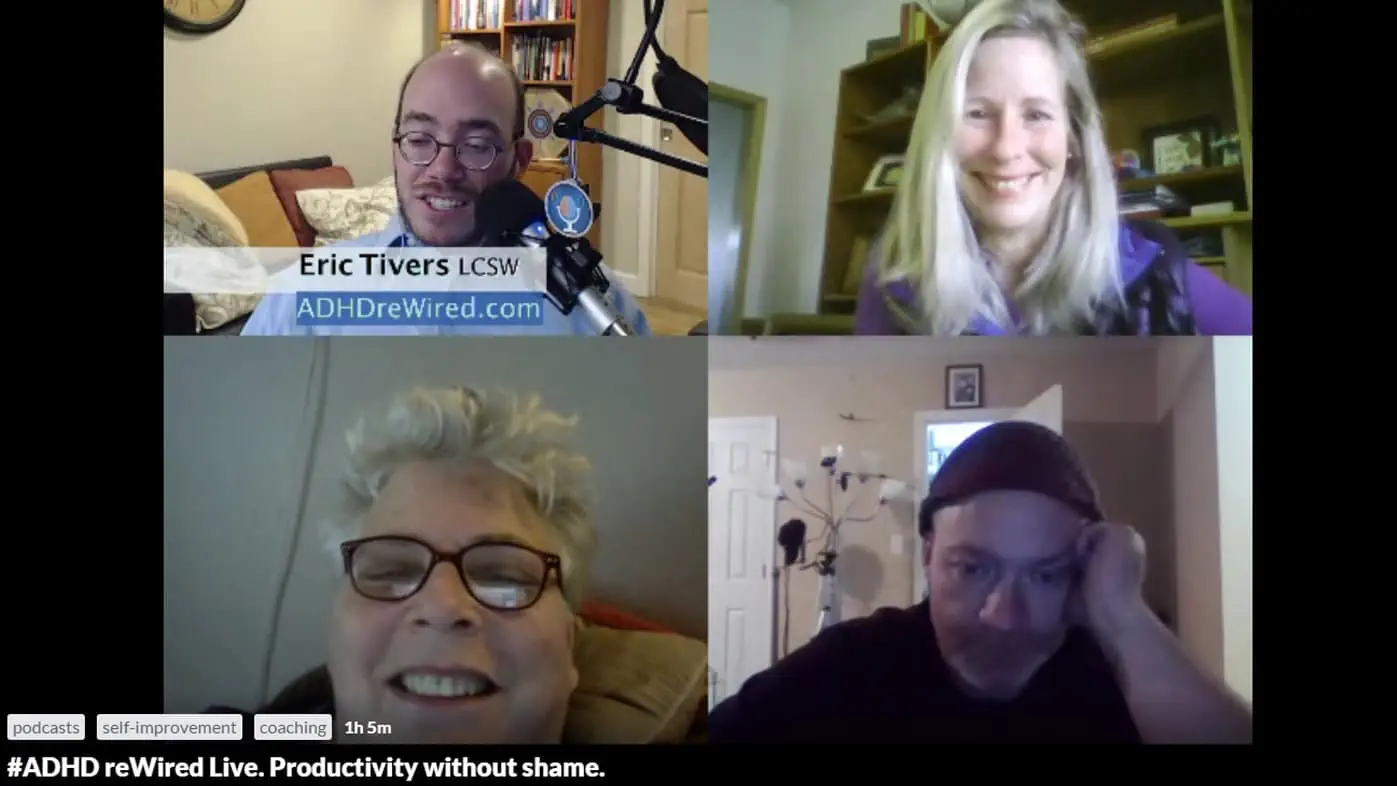 Dealing with the shame that often comes with attempts to be productive is the theme of this multi-guest episode. Hosting again from the Blab live streaming platform, Eric interviews a number of guests about their personal struggles with productivity and shame, covering topics including authenticity, letting people be who they are, medication, lying, and perfection.
Today's Discussion – Productivity with Shame:
The goal of this discussion is to hear stories of how people have both improved their productivity and dealt with the shame that commonly accompanies it.

Eric cites Brené Brown: "Shame is that intensely painful feeling that we are unworthy of love and belonging."

Eric hopes the community aspect of these live Blab sessions will allow people to know that they aren't alone in their struggles.

"Shame needs three things to grow exponentially in our lives. That's secrecy, silence, and judgement." — Brené Brown

With those with ADHD in particular, we need to let go of the ideas that productivity equals self-worth and exhaustion is a status symbol.
Gretchen and Finding Your Own Way:
Gretchen, her daughter, and her daughter's son all have ADHD. Her daughter, now 26, was diagnosed in kindergarten.

In tenth grade, Gretchen's daughter dropped out of high school. She was later expelled from the Job Corps program over personal space issues. By age 19 she had a child, though she had also earned her GED.

Pointing out the two-to-three year cognitive delay in those with ADHD, Gretchen says that by age 19 her daughter most likely had skills of a sixteen-year-old. Eric clarifies that the cognitive delay is specifically in the area of executive functioning – planning, organizing, and task initiation.

After earning her GED and attending a program for single mothers, Gretchen's daughter began work in a hair salon and loved the fast-paced work. She continued with her career, completed beauty school, and has now been working at the same location for two years.

Gretchen: When you're a parent of a child with ADHD, you think about how best to prepare them for the rest of society. To have that child then grow up and be able to forge their own way to ultimately be successful is a tremendous feeling.

Eric cites a Brené Brown comment on authenticity, that authenticity is "a daily practice of letting go of who we think we're supposed to be and embracing who we are". He also cites "The two most powerful words when you are deep in struggle are 'me too'".

When her daughter was diagnosed at age five, Gretchen was worried about not knowing what to do. Now, with her grandson, she knows what to do: let him be who he is.

Eric: Worry is creativity's dark side – it's imagination of what could possibly go wrong but probably won't.

In Gretchen's own education, she remembers struggling throughout grade school but then acing five computer classes in one semester during college. She cites her interest in the topic as the reason for her success.

Those with ADHD can usually focus very well on topics that they find interesting – it's neurological and a part of ADHD.
Robin Nordmeyer and Truth in Lying:
Robin Nordmeyer comments on Gretchen's story: "Such a great story. I too went through your same scenario with my own daughter. Patience, Love, advocacy and support can conquer a whole lot and help them be who they are authentically meant to be in positive ways!"

Sometimes students with ADHD who perform poorly or are struggling in school will tell their parents that they're doing fine. They will lie not necessarily because they're trying to be deceptive, but because they're caught up in the shame. "They are lying to protect their vulnerability from shame."

When parents can look past the lying to see its source – the shame an vulnerability their child feels – they can begin to help their children move forward.

Eric recommends parents not ask their children questions like "Why did you do that?" or "What were you thinking?" since in most cases the only honest answers are "I don't know," and "I wasn't," respectively. Those questions usually only lead to shame and lying.

Robin agrees with Gretchen about interest and passion in school and work – "passion aces everything." For subjects and tasks that are harder, breaking them down into approachable chunks to show that they can be completed can help.
Phone Calls, Piles, and Perfection:
One of Eric's areas of struggle is returning phone calls. He will take note of calls he needs to return, but then needlessly delay making the actual call to the point where it becomes a point of stress and shame.

Eric also sees an area of potential shame in asking people to schedule time to talk with him. He will ask friends who want to call him to use his scheduling service because he knows that if it's on his calendar, he'll do it.

Both Gretchen and Robin agree that managing their piles of "stuff" around their homes can be problematic. Whenever Robin successfully works on reducing even a part of a pile, she focuses on the positive feeling that accomplishment provides to drive her in the future.

Robin: It's okay to be vulnerable and not be perfect. We need to remind ourselves that no one on Earth is perfect. Eric: 'Perfect' is a dirty word.

"There's nothing more vulnerable than creativity." — Brené Brown
Exercise, Medication, and Methods:
User Sarah_Taylor writes " They claimed I had ADHD, but when I started working out didn't have it anymore, this has happend to many of my friends. I think ADHD can be managed without meds".

For some people, ADHD can be well managed without medication, but exercise is only one piece of the pie when it comes to treatment of ADHD.

It's also important to recognize that ADHD also exists on a spectrum, with those who have both mild and severe symptoms.

Medication has been shown to be effective in treating ADHD in between 70% and 90% of those diagnosed. Even for those whom the medication does effect, it's not a panacea and can require a multitude of strategies to assist in management.

Eric suggests that those who are struggling should try medication. Though the medication may not work for everyone, to rule it out as an option could limit a person's opportunities for change. He mentions that there is data dating back to the 1940s on stimulant medication that shows its safety and effectiveness.

Gretchen, who does not take medication, does exercise daily and closely manages her diet. Her daughter, at age 16, decided that she didn't like the way the medication made her feel and refused to take it past that point; Gretchen didn't force her to continue.

Eric sees this as a good choice; studies show that children and teenagers who are pressured into taking their medication are more likely to re-approach it later, in their mid-twenties and adulthood, whereas those who were pressured tended to avoid it altogether.
Margit Crane:
Margit has worked as a school teacher and counselor for thirty years, during which time she encountered many students with ADHD.

When Margit was a child, she remembers ADHD being called "hyperkinesis". In 1980, when she was diagnosed, it was called "minimal brain dysfunction".

Despite the name, Margit still felt better knowing there was some sort of diagnosis for her struggles.

Margit finds it particularly challenging to remove white flower and "crappy food" from her diet, even if doing so helps her maintain focus and avoid bodily misery. It doesn't help that a Dairy Queen exists across the street from her home.

Even after telling herself she plans to eat healthy a particular day, Margit will forget until after consuming the bad food. Eric empathizes, mentioning his own struggles with food.
Tom Nardone:
Both Tom's father and grandfather died at the same age, 54 – his father specifically from a heart attack. As a result, Tom avoids eating poorly red meat and doesn't eat bacon.

Recently, Tom watched "some medical thing" about ADHD wherein a doctor was talking about diet. The doctor mentioned that sugar was discovered to be the most substantial cause of high cholesterol, not red meat and bacon, for example.

Tom uses this as both an example of why he avoids science on his show (it changes) and how he can use information to lie to himself about what is okay to now eat a lot of (red meat and bacon).

Eric notes that many people want to find certainty when they look at the science, but that certainty doesn't exist. He suggests not dismissing it because we can't be one-hundred-percent certain.

Eric: People are taught facts in school, but often not the critical thinking skills to interpret or understand those facts and future ones. The average person has not been trained to read and critically analyze most science-related news stories and headlines to the point where they know how relevant or irrelevant they can be.

"My job is so much easier than yours Eric, see, because I'm the skeptic."
Guests on This Episode:
Products, Services, and Other Links:
Other information:
(CHADD does not endorse this podcast)